The Best Home Away from Home for Your Furry Best Friend
Playful Pups Retreat is a premier pet resort, and we're committed to providing a healthy, fun, and nurturing environment for your dog while you're away for the day or on vacation. Our focus is on enrichment and exercise to provide mental and physical stimulation for every guest, on-going socialization, training and confidence building as needed, and of course, a lot of belly rubs and snuggles!
The team members at Playful Pups Retreat are dog lovers and likely owners themselves. Our team members are chosen for their knowledge of dog behavior, dependability, exceptional attitudes and of course, a passion for dogs. Our team is trained to recognize each dog is an individual, and all have very different personalities. We get to know each dog and provide individualized care, enriching activities and love and attention and training if needed.
We are an Award Winning Pet Care Facility – Learn More Here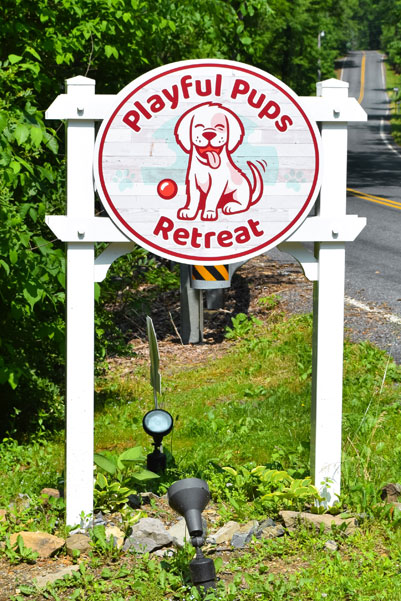 Give us a call to schedule a reservation
Features: Boarding, Day Boarding & Bathing
Features: Daycare, Training & Bathing
Premier Dog Boarding at Our Milton Grove Rd Location
A 6,900 sq. ft. climate-controlled facility
Luxury overnight boarding and enrichment activities
A 19 acre property with beautiful walking trails with owner's residence on site
Safety floors, which are easy on the paws and doggie joints
Separate play areas depending on your dog's needs
6-foot secure fenced play and potty yards with "Doggie Turf" that's kind to puppy feet
Highly trained, adult staff dedicated to the care of your pup
Late night potty trips
Activity package add-ons that provide mental and physical stimulation
Fun Dog Daycare & Doggie Waterpark at Our Hershey Rd Location
A 7,200 sq. ft. climate-controlled facility
Doggie Daycare, Canine Enrichment Club Daycare & Training Classes
Amazing Doggie Splashpad for water loving pups!
Five indoor play areas with epoxy floors
Five outdoor play yards with 6 ft fully secured fencing.
Dogs separated into appropriate groups by size, play style & personality
Highly trained, adult staff committed to SAFE and FUN play
Add a Basic Bath, Premium Bath or Poochie Pedicure to any overnight lodging stay so your dog comes home fresh and clean!