Available at our Hershey Rd. Location
I am a retired first grade teacher from Middletown. I have been involved in dog training for over 10 years. I enjoy keeping my classes very positive for your pet while having fun and teaching both you and your pup new skills.
I specialize in Agility, Nose Work, Canine Life and Social Skills (C.L.A.S.S), Fit Dog, CGC, Therapy Training, Star Puppy and Manners. When I am not teaching, I love spending time at the beach and doing therapy visits with my handsome golden doodle, Bentley. I am also Dog Mom to my sweet golden doodle named Lilly. I am certified by the AKC, APDT and a Tester/ Observer for Alliance of Therapy Dogs.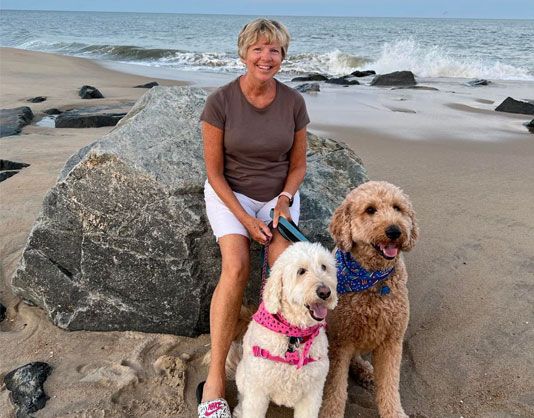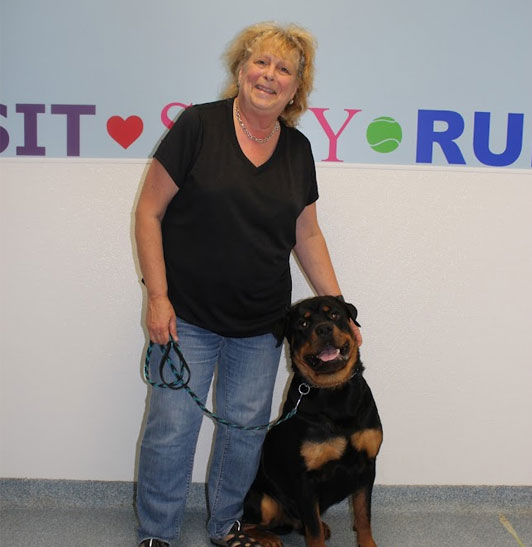 My love for animals has taken me on an interesting journey. I have had many dogs over my life, but the Rottweiler captured my heart. I got my first Rottweiler in the early 80's and since then have owned multiple dogs and each one has led me on a different path. Like people they each have their own personality and what venue they like to work in. Each dog has taught me something new; they all respond differently. My dogs have competed in conformation, rally, obedience, and therapy.
Always eager to learn, I attended classes with Kaye Ames with my personal dogs and then mentored under her for several years. Our class structure is based on Kaye's philosophy and positive reinforcement. I love working with people and their dogs; watching them become a team and bonding while training. I have been training dogs for over 30 years and am an AKC Canine Good Citizen Evaluator. I currently have 3 dogs, Cosmo, Salsa, and Stella. Cosmo loves to come to classes and be the demo dog. We look forward to meeting you and working with your canine best friend!
I worked for 22 years and built a career in Entertainment and Professional sports, it all went away when Covid -19 changed our lives. Fortunately, I was already preparing for a new career in Dog training, attending CATCH Canine Training Academy. I was originally thinking dog training would be my retirement work; retirement came quicker than expected and every day since has been a blessing. I received my degree and became a Certified Professional Dog Trainer (CPDT) and hit the ground running.
I opened Full Potential Dog Training, a private in-home dog training business. I also began working as a trainer at Playful Pups Daycare and Training Center. I believe in my heart there are no bad dogs, only dogs that need something more and different to reach their full potential. A strong passion of mine is working with puppies, getting them started on the right track early in their lives, laying a foundation for success. I also love to work with dogs of all ages to provide them with structure, rules and boundaries and get them back on track to their best selves. I train the dog in front of me and do what is best for THAT dog. Every dog is unique and requires different tools and techniques to help them. There is no textbook that has all the answers. My mantra is "Do what you love and call it work!" I am proud to say I do this every day!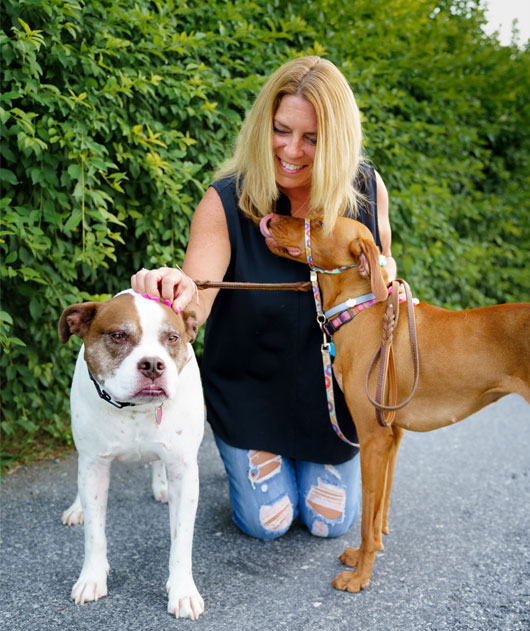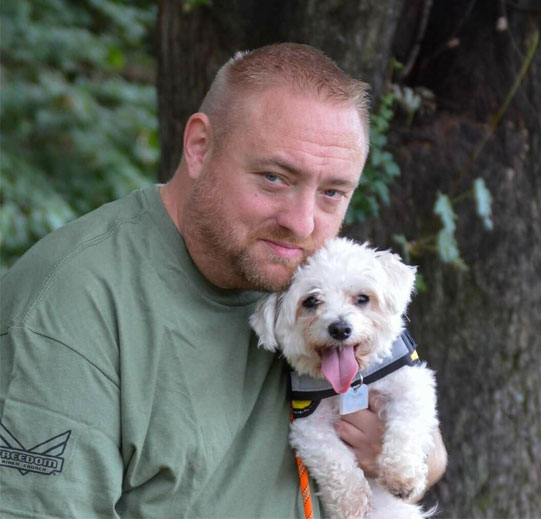 As a certified professional dog trainer, I am dedicated to helping dogs and their owners build strong, respectful relationships. With years of experience working with puppies, basic obedience, and veterans to help them train their dogs as service dogs, I have become experienced in all aspects of the dog training world.
I pursued this passion by studying at the renowned CATCH Canine academy, where I received a comprehensive education in dog training and behavior. My education has given me the essential skills to assist dog owners with all their training needs, regardless of breed or behavioral issues.
One of my most rewarding experiences has been serving my country in the Navy. I now give back helping veterans train their dogs to become service dogs. For veterans with PTSD, anxiety, or other physical or mental issues, a well-trained service dog can make all the difference, and I am proud to contribute to this cause.
As an active member of the Association of Professional Dog Trainers (APDT). I'm able to stay updated with the latest training methods, advancements, and continued education that helps me to provide the best possible training to my clients and their furry friends.
I started training dogs with my first Rottweiler, learning from Kaye Ames in 1987. I trained with her for a few years and then became one of her mentors. After a few years I began teaching my own classes and have gained so much knowledge over the years. My next Rottweiler, "Rueben" and I went from the obedience ring to the confirmation ring, getting his AKC championship and then his Canadian Championship then got his CD, and CDX.
I helped start a new training program with Kaye in 2010 in Mt Joy, PA. I have also been involved in dock diving and my Rottie Bono has his Master Elite title and his AKC championship, CGC and trick dog title. I have been training dogs for over 35 years. I've been a CGC evaluator for 5 years. When I'm not training dogs, I love showing Quarter Horses with my Granddaughter!