Available at our Hershey Rd. Location
Dog Daycare in Elizabethtown, PA
We know a one-size-fits-all approach does not work for every dog, which is why we offer different types of daycare experiences tailored to meet the unique characteristics and needs of your dog. Along with our traditional Dog Daycare Program, we offer Enrichment Dog Daycare, Puppy Social Skills Daycare, and our unique Day Stay Program.
Canines are lovable, social animals, and when dogs attend our Daycare programs, they are happier, more confident, and better behaved as a result of socializing with their canine friends and our passionate and professionally trained pet care team here at Playful Pups.
Our Daycare Programs include a balance of social interaction, mental stimulation, enrichment activities, group play, daily naps or quiet time, all based on your dog's preferences and playstyle.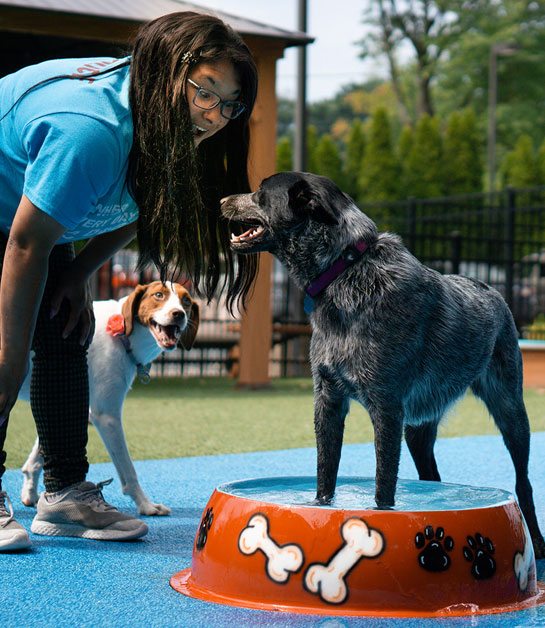 Because the safety and well-being of every dog is of utmost importance, we have the following guidelines:
We require a one time/week minimum attendance for all our daycare programs.
Maintain one of our monthly memberships to attend our Traditional or Enrichment daycare programs.
All puppies over 7 months of age must be spayed/neutered before being evaluated for doggie daycare.
All dogs must have their core vaccines to attend daycare. This includes Bordetella, DHPP, and Rabies.
Adult rescue dogs should be in a new home for at least 4 weeks before coming to daycare.
Some dogs are happier with ½ days of daycare. After your evaluation day our team will make suggestions as to the best daycare program option, as well as best days of the week/timeframes to set your dog up for the greatest success.
Monthly Membership and Daycare for as low as $26.25 per day, depending on the level of membership and number of weekly visits you select. The more your pup attends, the more you save!
Features: Daycare, Training & Bathing
Evaluation Day for Doggie Daycare
Is your dog the life of the pawty? If you have a furry friend who enjoys playing and interacting with other dogs, we would love to have him join our pack!
Every dog joining our daycare program will be scheduled for a Daycare Evaluation, which includes a comprehensive behavioral evaluation performed by our behavior assessment coordinators. Once you complete your first day, we will review whether our Traditional Daycare, or Enrichment Daycare program, will be the best fit.
Based on your frequency of visits for daycare and need for additional services, we will assist you with determining which monthly daycare package and monthly membership option are the best fit for you and your dog.
Read more below on why our clients bring their dogs back for daycare, year after year.
Why Playful Pups Retreat's Daycare?
The Safest Dog Daycare Around!
Playful Pups Retreat has the safest playgroups and enriching activities and comes highly recommended by our current customers and local leading veterinarians. Our team is extensively trained in dog behavior and pack behavior. Our training includes thorough study of dog body language, anatomy, behavior, pet CPR and First Aid. This ensures our pet care team can proficiently assess each guest behaviorally and physically. All of this contributes to the best daycare you'll find in Central Pennsylvania!
Once here your pet will enjoy an active and enriching day. We also offer Training, Bathing services and Overnight Boarding at our Milton Grove Road location.
Playful Pups Perks Membership Program...Membership Has Its Privileges!
As part of our exclusive Daycare Membership program your pup will have a reserved spot in our daycare program on your scheduled days and receive many other Paw-some benefits only available to Members.
Select between a Premium, Plus, or Basic membership and you will enjoy an assortment of FREE and discounted monthly services for your furry family member.
Free Daycare Day during your pup's birthday month
Free Daycare party attendance
20% Off Basic & Premium Baths
Free Monthly Poochie Pedicure
10% Off Overnight Lodging
AND MUCH MORE
Ask one of our team members for details on our monthly Membership Program and we will help you decide which Perks level is best for you and your lucky pup!
All dogs must maintain one of our three levels of Membership each month to guarantee a spot in our daycare program.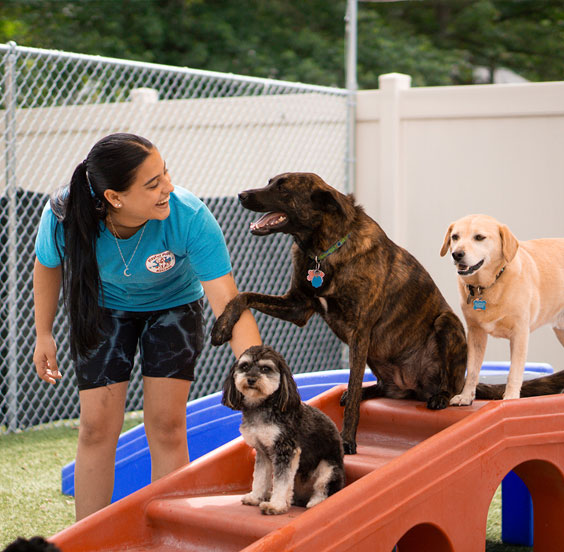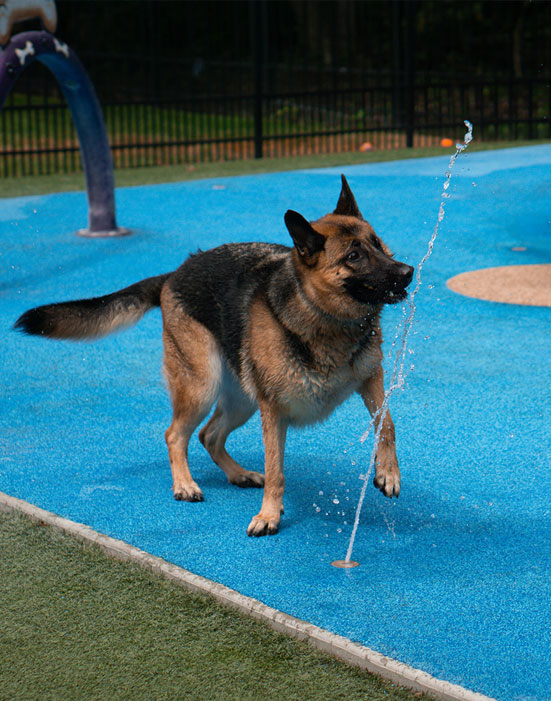 Choose the Best Doggie Daycare for your Dog
Choosing the best doggie daycare for your best friend is an important decision. Convenience, location, amenities, and cost are considerations but there are other essential factors to consider:
Safety First. Nothing matters more than safety. A reputable facility will put safety first. We achieve this through:
Formal training for staff on canine behavior and safe dog interactions. All employees who handle dogs are thoroughly trained. 
Dogs should go through a play style assessment. This assessment determines the dog's attitude toward other dogs.
Dog daycare groups should be divided by size and play style. We evaluate each dog to determine the best playgroup based on play style, size, and temperament.
Constant Supervision is a must. Most pet parents assume all facilities provide this. Unfortunately, it's not a reality for most pet care facilities. It is for Playful Pups Retreat. We have reliable, passionate, and well-trained staff to ensure the pack is monitored the entire time.
To ensure the health and safety of all pets that stay with us, we require each doggie daycare guest's vaccinations are current against the most common canine illnesses. We verify current vaccinations with each veterinarian. This extra step provides peace of mind that your dog is playing with healthy dogs.
Features: Daycare, Training & Bathing
Daycare activities ensure a mentally and physically healthier pooch.
Playful Pups Retreat's dog daycare can help alleviate behavior problems such as separation anxiety, destructive chewing, and barking. These behavior problems can be a result of being left alone, being under-stimulated, or simply a lack of adequate exercise.
If you spend time away from home during the day and do not want to leave your best friend home alone or your dog simply has too much energy and not enough ways to exercise, then Playful Pups Retreat's dog daycare may be a perfect fit for you and your dog.
Highly recommended by leading veterinarians
Loads of fun playing, socializing, and making new friends
Dog-safe playground equipment and outdoor play yards with room to romp and play
Super fun doggie splashpad for Summer fun!
Birthday parties, doggie arts and crafts, and holiday festivities
Doggie Daycare can make a major difference in both you and your dog's life. Doggie daycare provides exercise, playtime, fresh air, and an opportunity to build socialization skills and burn off all that excess energy!
Socialization with dogs and people can help a dog learn how to navigate confidently in our world.
Socialization can also reduce new experience anxiety, which can lead to unwanted behaviors such as excessive barking, chewing, or nipping.
Well-socialized dogs, on the other hand, remain calm, taking things in stride.
Beginning proper socializing is ideal when your dog is still a puppy, but adults can also learn.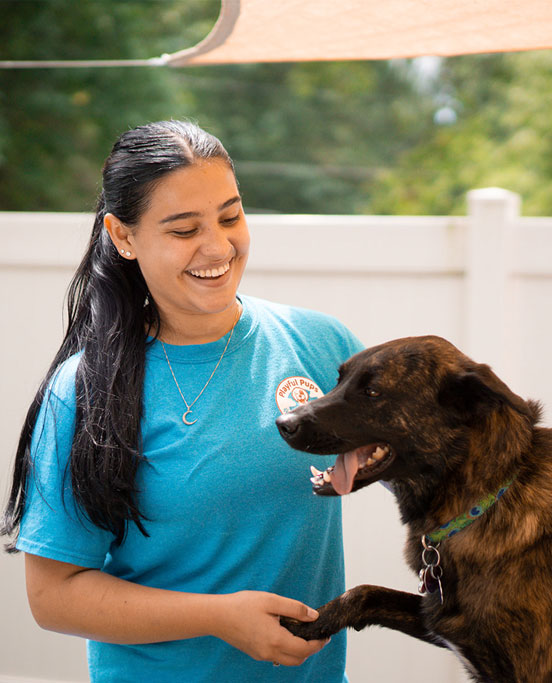 I love how friendly and caring staff is. Rocky loves being there, I can leave him there knowing he will have fun with his furry friends and be loved by his human ones. I would not change this place for any other.

Karen Z. of Palmyra PA

The individual care and concern the staff give each dog is second to none. I was very worried how Cass as a recent rescue would do in a kennel, but it was clear the staff gave him the time he needed to adjust and knew how to handle a shy dog.

Kendra J. of Washington PA